This is my first blog hop ever! I feel so hip and cool- look at me trying to act like I know what I'm doing! But truly, I've already found some supercute blogs through the hop. I've been clicking "Follow" like it's going out of style. I'm turning into quite the blog sl*t!
;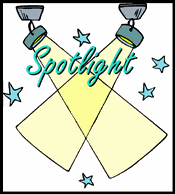 I spotlighted
Kiss My Book
. She's got good book reviews and suggests books I probably wouldn't pick up otherwise. If you want to see the complete list of blogs participating in the hop, check out
Between the Lines
,
Survey Junkie
, or
Kindred Spirit Mommy
. They're sponsoring this hopping soiree.
And just for the fun of it, here's another great Target short: